In her World Polio Day message, Rotary International President Jennifer Jones explains why we need your support on World Polio Day.

NEWS: Mojo Blog
I'm going to plan to post as often as possible, maybe not every day, but as the mood hits me and the need arises to share some worthy.  I will share my adventures, some thoughts, some ideas that I gather from all of you, and most of all I hope to have some fun.  It will be an exciting year ahead, I hope you all can come along for the journey as I explore Nebraska, Colorado, Kansas, Missouri, and eventually HAWAII!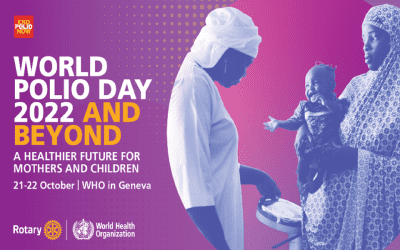 What is that Polio Picture? We're at an urgent point in our work to achieve a polio-free world and to adapt the lessons learned to improve health systems worldwide. Learn about the state of polio eradication and its broader relevance to global...
read more
Ukraine - Rotary statement on the effect of the escalating crisis in Ukraine on polio eradication efforts - Rotary is deeply concerned by the deteriorating situation in Ukraine and the escalating loss of life and humanitarian hardship there,...
read more
Other Mojo Blurbs
Mojo could also be considered as momentum.  Think about it, if we are not moving for forward we are either going backwards or making no progress at all.  In order to have any momentum, you must have something of substantial force to move or have an effect on another object.  Something small is not going to make a difference on something substantial.  Think BIG!  Make a Difference!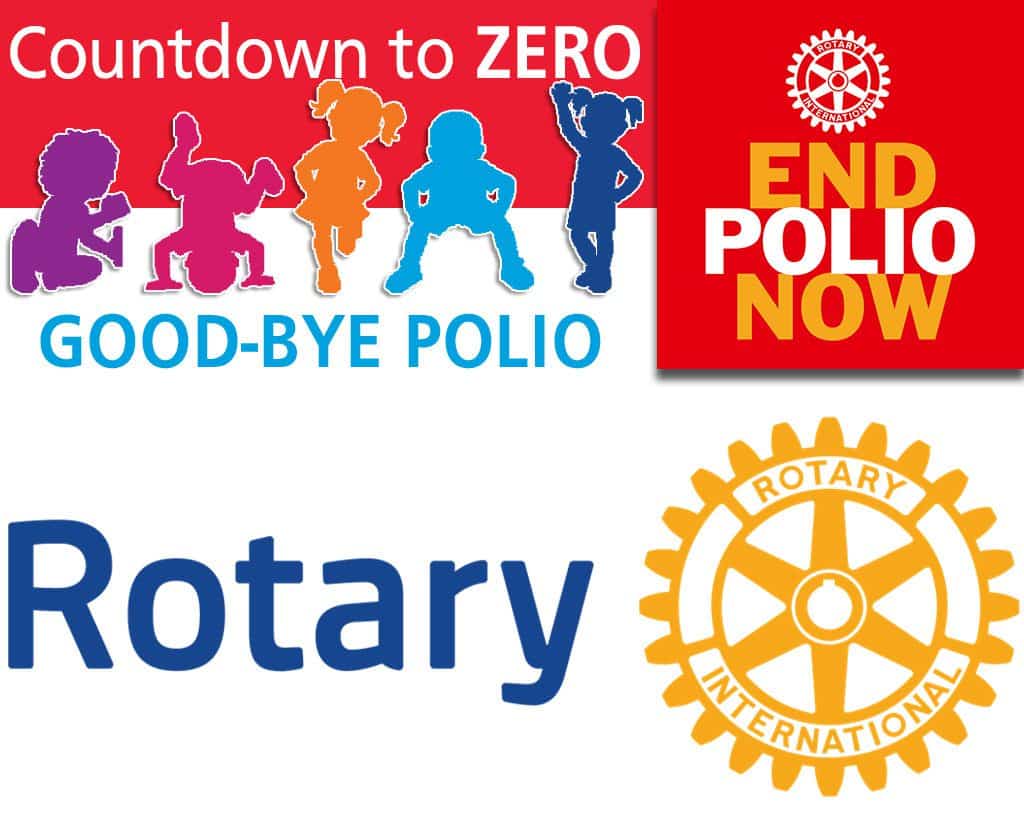 Advocate, Donate & Educate to END POLIO NOW & FOREVER!
20,000,000 Children Saved from the Paralysis of Polio Since 1988
| | | | | | | | | |
| --- | --- | --- | --- | --- | --- | --- | --- | --- |
| Total paralysis cases | YTD '23 | 2022 | 2021 | 2020 | 2019 | 2018 | 2017 | 2016 |
| Globally | 0 | 30 | 6 | 140 | 176 | 33 | 22 | 37 |
| -in endemic countries: | 0 | 22 | 5 | 140 | 176 | 33 | 22 | 37 |
| -in post-endemic countries: | 0 | 8 | 1 | 0 | 0 | 0 | 0 | 0 |
Wild Polio cases reported this week:
Pakistan 0, Afghanistan 0, Mozambique 0
2023 Wild Polio Cases - 0
Endemic Countries
Pakistan (2022-20) (2021-1) (2020-84) (2019-147)
Afghanistan (2022-2) (2021-4) (2020-56) (2019-29)
Mozambique (2022-8), Malawi (2021-1)
2022 Vaccine Derived Polio 702 Cases - in 23 Countries
2021 Vaccine Derived Polio 689 Cases in 22 Countries
2020 Vaccine Derived Polio 113 Cases in 26 Countries

Terry Ziegler, bigzlumber@aol.com Rotary Region 26 Endowment/Major Gifts Adviser
Many of you have asked questions about the recent Vaccine Derived Polio cases.  Rotary is quite concerned about the increased numbers of Vaccine Derived cases as well as the Wild Polio cases.   Some of the increase in case numbers is due to better surveillance with more cases being identified.  When vaccine-derived cases are confirmed, there is an immediate response with vaccinations given in the immediate area.  See the attached Q&A's from the CDC.  The CDC has created an outbreak response team and plans to deploy more than 60 CDC staff over the next 6 months to concentrate on Vaccine Derived outbreaks.  I hope this will help as you inform your District's Rotarians about the Vaccine-Induced Polio cases.

Vaccine-Induced Polio Cases – From 2000 to date, 1085 cases of paralytic cVDPV have been reported, 932 (86%) of which were type 2. During the same period, >10 million cases of paralytic polio were averted. Vaccine-associated paralytic polio can occur in children who receive the vaccine, usually after the first dose, or in their susceptible close contacts, for a total of 2–4 cases per birth cohort of 1,000,000 children before the switch from trivalent OPV to bivalent OPV. Since the switch, an estimated 160–240 cases per year of type 2 vaccine-associated paralytic polio have been averted. Cessation of all OPV use after certification of polio eradication will eliminate the risk for VDPV emergence and spread.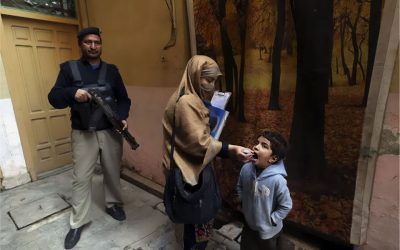 What is that Polio Picture? Pakistan last Sunday launched its first anti-polio campaign of the year, targeting 44.2 million children under the age of five.  Prime Minister Shahbaz Sharif kicked off the nationwide drive by administering polio drops...
read more
When I was at Rotary International Assembly in San Diego, CA (Jan. 2019) we had the pleasure of meeting and hearing the family story of Carl Chinnery, and his family's perils with Polio.  This is a very personal story penned by of his 89 year old mother, and read to all of us by Carl.  You might need a Kleenex!
District 5630, What a Year!
In the year of COVID-19, how you navigated rough waters
Travel History
Beginning on July 1, 2019 the adventure as your District Governor "officially" begins.  But really my travels and my journey began a long time ago…  View my travel map
Touring our District, A Community at a Time
From the northern border at South Dakota, just 12 miles north of Spencer, NE to the southern border just 6 miles south of Red Cloud, NE US Highway 281 stretches approximately 275 miles to form the eastern most edge of the district.  With the small exception of a small "notch" that excludes the communities of Scottsbluff, Gering, Mitchell and Morrill on the far western edge the rest of Nebraska makes up District 5630.  From Chimney Rock to the NE State Fair Grounds and the Niobrara River to Harlan County Reservoir, our district is as diverse as the land it covers and we will explore is together.
Travel Gallery
Traveling to the clubs is certainly the most enjoyable part of the District Governors responsibilities.  Meeting all the dedicated Rotarians, their families,  friends and community leaders throughout the district is such a thrill for me.  For many years I have made my way to clubs as often as much as possible.  But this year as YOUR Governor, it is a very special honor to make the return trip to visit.  I'm hoping that I can make many trips back over the year of my service to our district.